A good first impression
As a business owner, you'll know that a good first impression is vital to building trust with your customers. This can come in many different forms – websites, social media and advertising to name just a few. One that is often forgotten is email. Whether it's a promotion sent to existing customers or a welcome introduction to new clients, the emails you send can be the perfect way to show people what you're made of. The content, including artwork and headers, and your email address itself can all be used to create your brand image. Even if you're just requesting a meeting with a colleague, you need to remain professional in everything you do.
But, before you hit send, ask yourself the following…
Who are you?
It all starts with a name. Your email address plays a big part in making sure you stay in that inbox. If you've got your business name in your address, customers know exactly who's emailing them and you're less likely to end up in spam.
Even better? Personalise it further with your domain. Your recipient will know who they're talking to and will build trust with them right from the offset. cakesbysally@breadcrumbs.co.uk is much more likely to get a response than sales@live.com.
What do you want?
The subject line is the first thing your recipient will see. Before they even open the email, your email address and subject line will appear in their inbox. And it's important to get this right. The subject line dictates whether the recipient opens your email or bins it. Make it snappy, but also include keywords that get the point across as to why you're emailing and show a recipient why they should open it.
Some good examples taken right from my inbox:
LAST CHANCE! Our photo gifts summer sale
FINAL CALL: Here's up to £75 off for you!
Your free photobook is waiting!
Delicious meal on your mind? Let us help.
Free Greggs sausage roll
Essay review – Needed ASAP
Quarterly Review Presentation
Notice a pattern? These subject lines tell you exactly what product or offer they're selling or what task they have for you, without even opening the email. Also, the use of all caps grabs your attention, meaning out of all the other emails you receive (and there are probably a lot!), you're likely to see that one first.
Here are some not so good examples (also from my inbox, now in the bin):
Don't miss out
See what's new
Welcome
A few hours left
Coming soon
These examples give you no information about what's in the email. What are they welcoming you to? 'A few hours left' of what? What's 'coming soon'? Why would you open an email that has such an ambiguous subject line? Straight to the junk folder.
Does it make sense?
Possibly the most important thing to check within your email content is that it makes sense. The grammar, punctuation and spelling should be perfect. If there are mistakes with any of these, you might not be taken seriously, or your email may be viewed as spam. How many times have you received an email, brimming with spelling errors, and sent it straight to the bin?
This example is full of spelling mistakes, grammatical errors and formatting errors. Of course, we're exaggerating and this is a very basic example of an email, but you'd be surprised how many people will miss a letter that's in the wrong place. Our brains automatically correct things for us, which isn't very helpful when you're trying to proofread. And 'spell check' isn't the answer to everything. If you can read the sentence below, it's no surprise you might miss things in emails.
I cdn'uolt blveiee taht I cluod aulaclty uesdnatnrd waht I was rdanieg.
Crazy, right?
A solution to this issue is to send the email to someone else to read. They may notice something you haven't or find a different way to word something. It's always best to get a second pair of eyes on your content.
Who are you talking to?
Another reason to ask someone else to read your email is to make sure that the tone of voice is correct. Whoever your recipient is, you should be tailoring your language towards them. You'd speak to a friend or colleague in a completely different way to a potential business client or customer. If you get these muddled up, it could be detrimental to your business. The client won't take you seriously or, worst case scenario, may be insulted by the unprofessional way you spoke to them.
Two very different emails, with very different intentions.
Something else to check before sending is that the address is correct. Your CEO doesn't want to hear that you went to the beach at the weekend. Equally, you could be sending private information or data to a stranger if you don't have the right address. This could lead to a whole other, much more serious, breach in data protection.
What's the point?
'Waffle' is never a good thing, unless covered in maple syrup. Make sure that the point of your email comes across almost straight away. There's no need for two paragraphs about the weather, before you finally get to the summer sale you're trying to advertise or the meeting that needs booking in. Your recipient will lose interest and delete the email before they read the important bit.
Also, be certain about what you want to say and stick to it. As important as it is to start the email correctly, you need to carry that through to the sign off and not lose your train of thought halfway through. Otherwise your recipient might be confused and, again, mean you aren't taken seriously.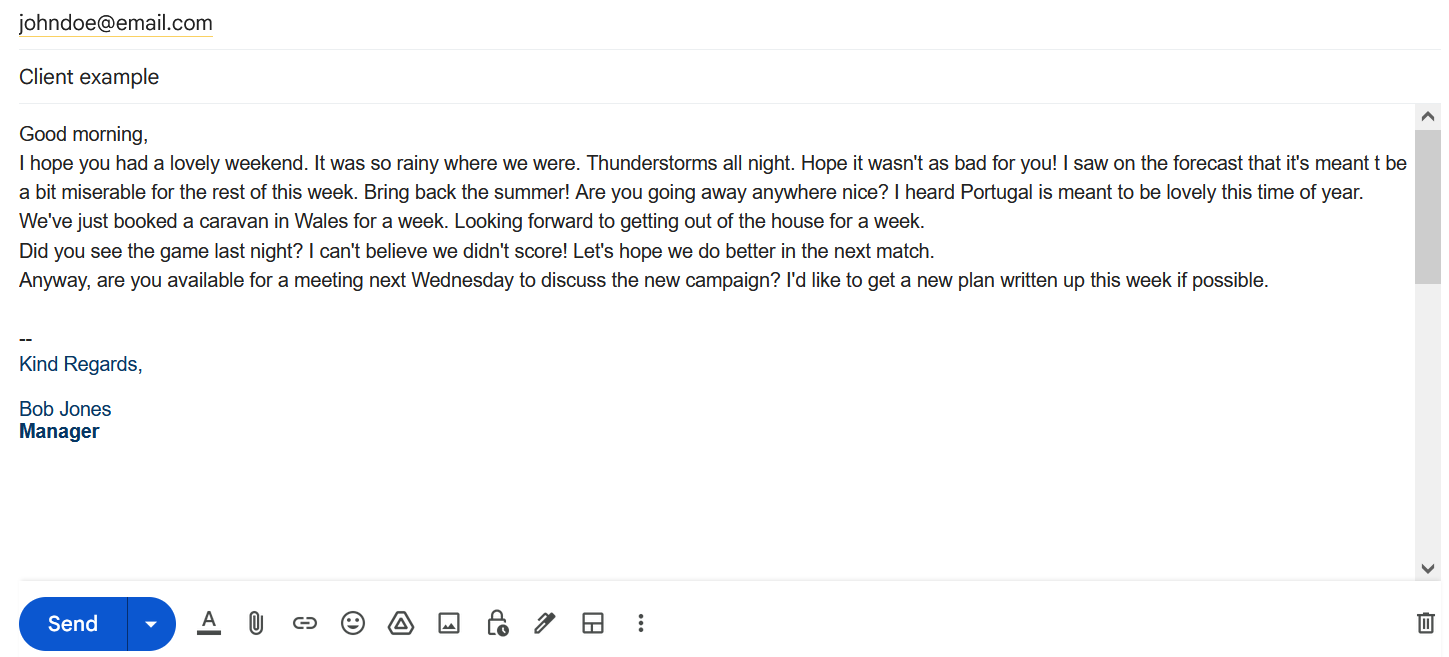 John doesn't need Bob's life story. Get to the point. A little bit of an introductory sentence is fine. Be friendly of course. But it doesn't need to go further than a line.
For example: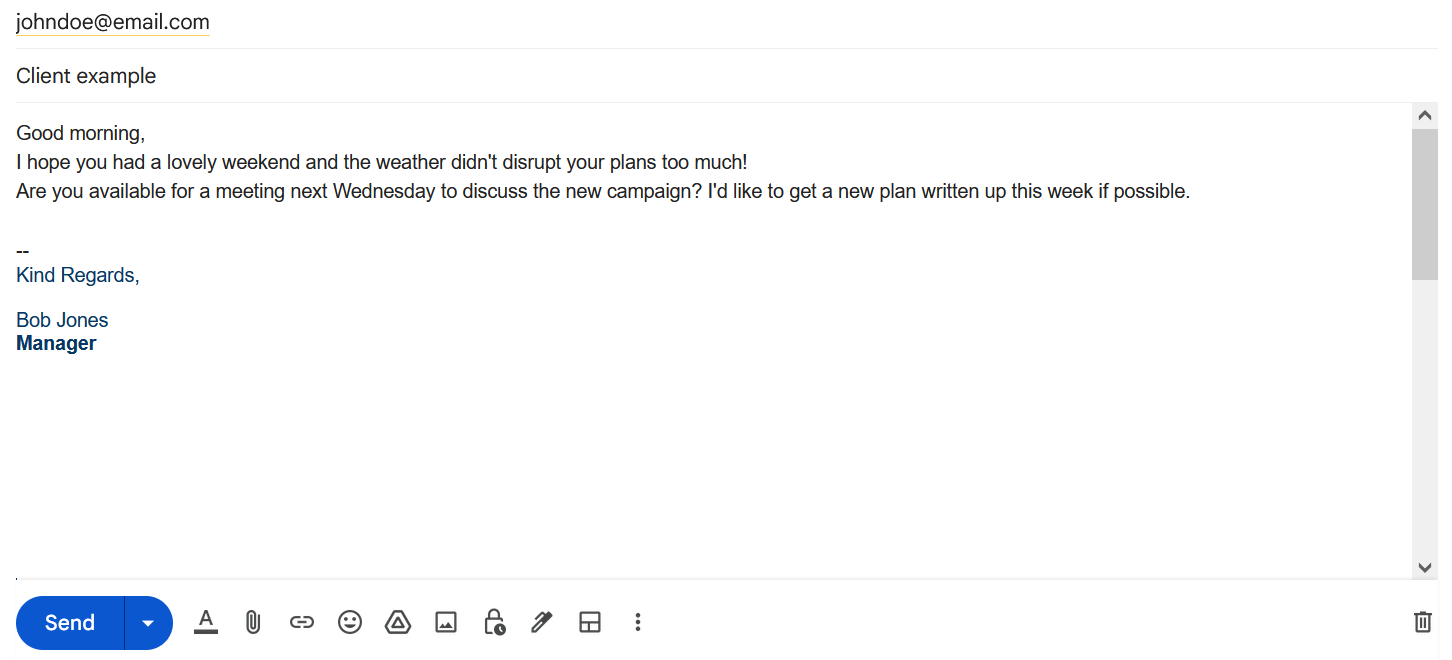 This Bob was polite, but concise. Be like this Bob, not 'Waffle Bob'.
If you're sending out a sales email, like a promotion to customers, you can be more chatty and pad it out a bit, but even then you need to stick to the point. You don't want to hit them with a wall of text. Your goal will get lost somewhere in the middle.
What do you want to look like?
Appearance isn't everything, but when it comes to emails it certainly plays a big part. This covers a few different things – layout, images/artwork, header and signature.
A standard email layout tends to be:
Your company logo, if you have one, centred in the header
Address the recipient
Opening paragraph – a brief summary of what the email is about
The main content - how long this is depends on the purpose of the email, but again you don't want to send a huge block of text
Closing statement/call to action
Sign off – including an email signature. This could be your name, followed by your job title and business logo. If you do include the logo, make sure it's a good quality image.
Of course, the content within this layout varies depending on the kind of email you're sending. Regardless, you should always make sure it's laid out clearly and neatly.
If you're including any images or artwork within the email itself (not including attachments) check that they display correctly and aren't blurry or pixelated. Nothing looks more unprofessional than an email that looks like this:
You could also include a footer, with your business logo, contact information and any terms and conditions if it's relevant.
Keep this in mind
So, we've covered a lot here. But to follow our own advice and keep it concise, here are the main things to keep in mind:
Use your name
Informative, but snappy subject line
Perfect grammar and punctuation
The right tone of voice
Get to the point, and quickly
No broken or blurry images
Send the right message
Fancy building business credibility, while looking like a pro? Put your business' best foot forward with our professional Email Hosting. Personalise your email with your domain and make sure your customers know exactly who you are. Plus, get multiple email addresses that you can take on the go, whether you're in the office, on the train or on the beach!
Find your perfect domain and explore our Email Hosting packages.