Domain Name Transfer
Move your domain name to a better home
Domain name transfers to us are easy and free. Get all the benefits of a leading UK-based technology provider and save money with great domain renewal offers.
View offers
Get started
Why transfer your domain name to Fasthosts?
We keep over 1.2 million domains safe so we know a thing or two about managing them. With us, you can take advantage of our user-friendly interface, dedicated support, advanced features, and more.
Quick and easy domain transfer
Transfer domain names to Fasthosts by following a few simple steps. We take care of the technical stuff, and get you up and running as fast as possible.
No transfer fees, no ties
Enjoy free domain name transfer to and from Fasthosts. We're sure you'll be happy with our great services and features, but there are no penalties for leaving.
Complete control over your domain
Once you transfer a domain name to us, you'll have access to our easy-to-use Control Panel with powerful domain management features including advanced DNS.
Expert 24/7 support
Get in touch any time for help managing your domain – our expert support team is available around the clock to answer any questions you may have.
Your domain is in safe hands
Our advanced data centres keep over 1 million domains secure. Plus, with optional two-factor authentication, you can be doubly confident in your site's security.
Get even more from your domain
As a leading web hosting provider we offer a range of services to help you get more from your domain name. From email to website builders and servers, we've got it.
Already
+1,200,000
domains registered and counting
Domain transfer offers
Transferring domains to us is completely free. When transferred, almost all domains are renewed for at least 1 year and our transfer offers can save you up to 82%* off your next renewal!
View our full list of domain name transfer renewal offers below.
The worlds most popular domain
Represent your organisation
Show visitors what you're made of
Show your Welsh roots
Be proud to be Welsh
For all things Scottish
Show your London pride
Tell them what you do
Say it how it is
One for the techies
You're always .online
Stand out from the crowd
All prices excludeinclude VAT at 20%. Terms and Conditions apply
*Prices checked February 2023, against non-offer, single-year standard renewal prices of competitors
How to transfer a domain name to Fasthosts
Complete a name transfer to us in a few simple steps.
.uk domains
Prepare your .uk domain for transfer
Ask your current domain name provider to change your .uk domain name's IPS tag to LIVEDOMAINS (uppercase).
Complete your .uk domain transfer
Create a free Fasthosts account if you don't already have one, log into your Control Panel and enter your .uk domain into the domain name transfer tool. Then simply follow the easy instructions to complete the transfer.
Start your domain name transfer
All other domain names
Prepare your domain for transfer
Ask your current domain name provider to unlock your domain for transfer and request an authorisation code.
Submit your domain transfer request
Create a free Fasthosts account if you don't already have one and log into your Control Panel. Initiate the transfer by entering your domain into our domain transfer tool.
Authorise and confirm the domain name transfer
You'll receive an email with information on how to authorise the domain transfer using the authorisation code. Simply follow the instructions to complete the move to Fasthosts.
Start your domain name transfer
Real support from real people, 24/7
Our expert customer support teams are always available to support you, your sites and your clients. Regardless of what time you're working, they're only a phone call away.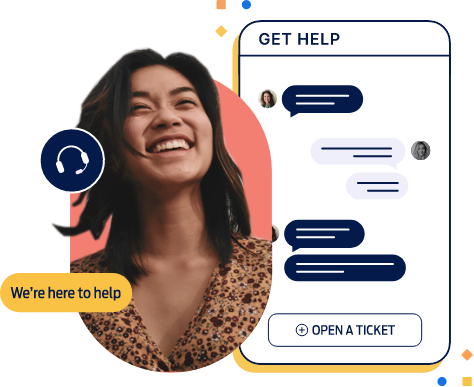 Don't just take our word for it
Easy enough to get the domain you want
Easy enough to get the domain you want at a great price! Good comms all through the process
Mark Wharton
Incredibly easy to transfer domain
Incredibly easy to transfer domain and email accounts and much cheaper too
Adam Clatworthy
Frequently asked questions