Whether you're a new business looking to get online, or an established brand looking around for new options, the term "web hosting" will have undoubtedly cropped up here and there. But what exactly is web hosting, and how do you choose the right one?
---
What is web hosting?
Web hosting is a type of hosting that gives you the platform you need to get a website live. It provides a server that hosts your site's files and allows your website to exist online in slightly different technological setups. In short, if the site exists, it's using some form of web hosting.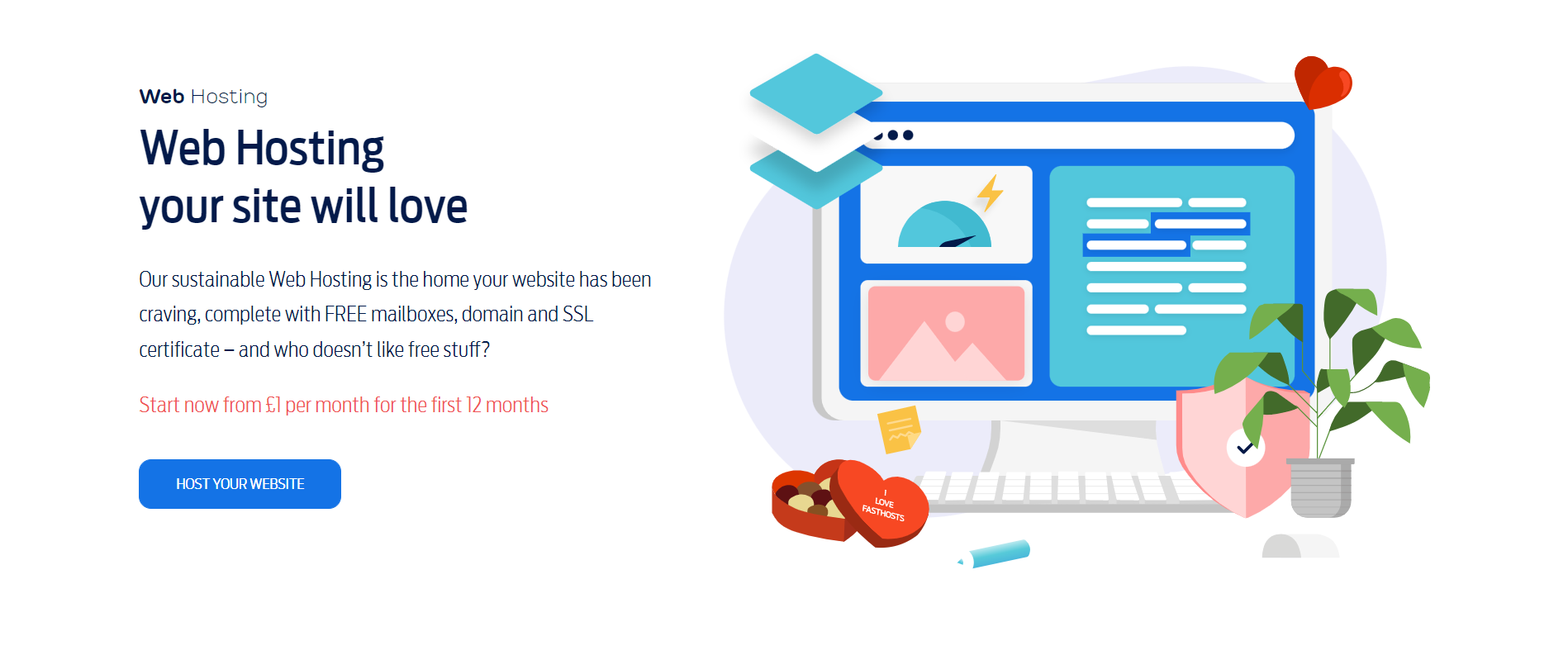 What is web hosting for?
So you've developed an amazing-looking site, but what do you do with your code? Where does it go? That's where web hosting comes in. Web hosting is the process by which files are stored online and then used to build and display a website that can be visited by web users. Every website in the world is hosted on a server, so it's essentially a given in the world of websites, and a term worth getting accustomed to if you are shopping around for a potential website solution.
Who uses web hosting?
The way in which a website is 'put live', web hosting is for anyone who wants to do just that. There are many types of web hosting that offer varied benefits so different people and organisations will use different hosting options based on their use case.
How does web hosting work?
Web hosting effectively provides a secure online location in which website files and data are stored. When someone visits your site, these files are accessed and used to display your site. This process all relies on servers, most of which are physical machines that provide online locations, which can be accessed by other web users.
How much does web hosting cost?
Depending on which server you opt for, the cost of web hosting will vary. For example, the most you'll pay for shared hosting may be £15, whereas cloud hosting could be up to £650. So if cost is an issue, it might be worth basing your web hosting choice around your budget.
How to choose a web hosting provider
Selecting a web host may seem like a mammoth task, that's why we're here to help you choose. We recommend keeping a few things in mind when making a decision.
The needs of your website - Ask yourself, what does your website need? Some web hosting providers will offer different tools or support various platforms, so deciding what you need first is key.
Website building options - Sometimes you can bundle together your website build and hosting. If this is something you want to do, ensure that your web host offers both. Here at Fasthosts, we offer both website builds and web hosting, for all your online needs.
Do some research and compare - Shopping around is always a good idea when choosing a web host. So put together some possible candidates and compare the features they offer.
Hopefully you now have a bit more of an idea about who to choose as your provider. If you're looking for any extra info, check out our blog on choosing the right web host.
Which server is best for web hosting?
There's so many types of web hosting for businesses looking to either get online or switch from their current setup. But there are different benefits and limitations across these options depending on what you want to use your hosting for. So what are your options?
Shared servers
With a shared server, you share your space with several other sites. Sharing your resources means that you're sharing the cost, so shared hosting is normally more affordable compared to other options.
Virtual private servers
The middle ground between a shared server and a dedicated server is a VPS. Virtual private servers give users the freedom to share a server with others, but to also have their own resources. These are great for businesses looking to improve their site performance, and are also a cheaper option to that of dedicated servers.  
Dedicated servers
Meanwhile, a dedicated server is yours alone – it's dedicated to your project. You don't share your space with anyone else and get all the benefits that go along with this. These include the security of knowing you aren't sharing a server with malicious or undesirable neighbours, increased stability and speed, and more flexibility and customisation.
Cloud servers
A cloud server is a server that is delivered through a network rather than relying on local physical servers. This means that a cloud server can be accessed from anywhere, by anyone who's authorised to do so. And probably the biggest advantage of cloud servers is that most offer flexible billing (start, stop and pause your server when you need to) and scalable resources – great for growing projects.
Free vs paid web hosting
One 'web hosting' crossroad you'll find yourself at is whether to go down the free or paid route. So what's the difference?
Free web hosting
While using a free service might seem like a no-brainer, you might not want to cut corners when it comes to your business' online presence. Free hosting comes with a handful of limitations and disadvantages, like pop-up ads, capped bandwidth or the obligation to feature the provider's branding on your site. Plus, you might not be able to use a custom domain name in your URL or use a lot of the customisation tools unless you upgrade to a paid package.
Paid web hosting
The main drawback of paid hosting is the cost, especially if you're on a tight budget. But high-performance hosting doesn't need to break the bank. In fact, a lot of web hosting is extremely affordable and, for what you pay, the benefits are undeniably worth it. A paid web hosting service provides the advanced functionality, customisation and reliability that every business needs, from ecommerce features to high level security measures.
Do I need web hosting?
If you want a website, then the short answer is yes you do. Luckily for you, there are plenty of providers around offering a range of different hosting options depending on what you need for your project.
Looking to get online quickly and efficiently? Then look no further than our range of Web Hosting packages. You'll get everything you need to get online, like a free domain name and SSL certificate included as standard – and that's just for starters! If you need any help deciding which hosting is best for you, our sales team is here to answer questions, no matter how big or small.