Have you ever wondered where the best places are in the UK to set up a new business? Well we've analysed average download speeds, business launch and closure rates, five-year survival rates, office renting costs, and average working productivity across the nation. From this we can reveal the top 15 towns and cities for business opportunities.
The top 15 towns and cities for start-ups in UK
Taking each factor into account, we can crown Luton as the best-all round UK location to start a new business, with an overall index score of 3.375. The Bedfordshire town ranks marginally higher than fellow southern startup hotspot Reading (3.312), which claims second place. Meanwhile, major midlands player Nottingham (3.276) takes third on our index.
Capitals in the UK
In the battle of the capitals, it's pride for Scotland as Edinburgh (3.210) outperforms Central London (3.209). By the slimmest of margins it ranks as our 4th best city for overall enterprise opportunities, while the English metropolis takes 5th.
North West
Liverpool (3.156) might lead the race as the best North West location to start a business, but the maritime city can only finish 6th in the whole of the UK. And the south coast favourite Portsmouth (3.109) is ranked one place lower in 7th.
West Midlands
Finishing 8th and 9th respectively across our index, we have two West Midlands giants, Coventry (3.079) and Wolverhampton (3.066). Meanwhile Bristol (3.064) sneaks into the top ten just ahead of the UK's long-regarded second capital city Birmingham (2.988). Heading northwards to Tyneside, we can reveal that the North East city of Newcastle (2.970) is the 12th best UK location for setting up your new business, with Stoke-on-Trent (2.905) and Northampton (2.885) trailing close behind.
And finally...
Finally, completing the UK's top 15 towns and cities for new enterprise, Bradford (2.835) beats West Yorkshire rival Leeds (2.822) to claim the last ranking spot.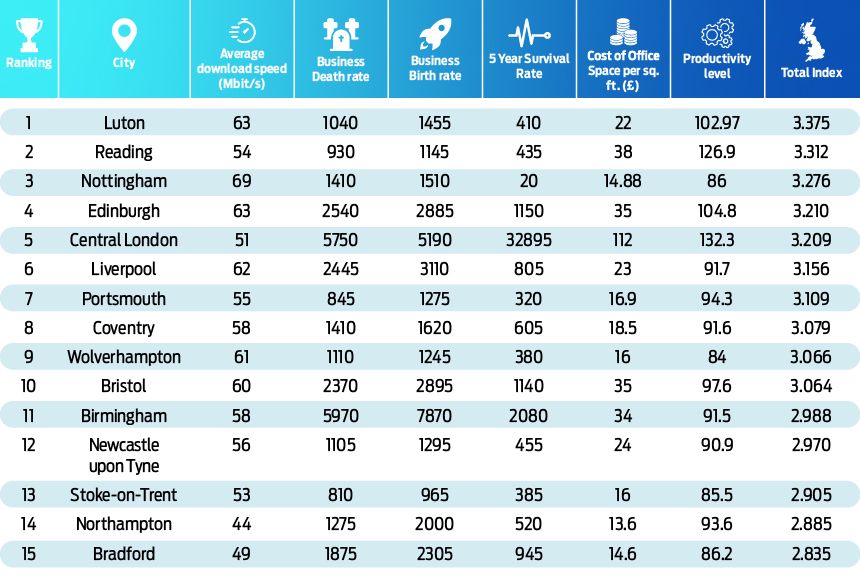 Inspired to start your own business? Invest in a domain name today and get yourself online! Or, want to learn more about the UK's top digital cities?
Methodology
To determine the best UK locations for enterprise, we considered a range of factors and assigned each a relative index score to make comparison possible.
We achieved this through first recording raw data for 85 towns and cities across England, Scotland, and Wales. This data was focused on average download speed, business launch and closure rate, five-year business survival rate, the cost of office space per sq. ft., and productivity rate.
With our raw data, we were able to rank each location from 1st - 85th, for each of the six separate scoring factors. Based on their relative ranking position, we then assigned each town or city an index score between 0.00-1.00 for each factor, before combining all six to give each location a final score between 0.00-6.00. This gave us our overall ranking table and the top 15 UK locations for startup businesses.
---