Just as the economy started to get back on its feet and businesses started to consider bringing their workers back to the office –  lockdown was imposed again.
With technological advances like cloud computing, faster broadband and improved mobile devices, the trend toward employee remote working has been developing for a while. Since the pandemic, however, this trend has obviously accelerated.
Regardless of when lockdown will be lifted or the threat of Covid-19 reduced, it's clear that for a large proportion of the workforce, working from home is here to stay. A survey of 958 company directors by the Institute of Directors found that nearly three-quarters (74%) intend to continue with increased home-working after the pandemic.  
However, with all the advantages that come with remote working, such as reduced commuting, increased employee well-being and a better work-life balance, there are challenges.
Remote working cyber security
As British workers re-adjust to working from home, cybercriminals are finding ways to take advantage of security lapses outside of the office. Outside of the office environment and convenient IT help, are remote workers slacking on their data security?
We reveal just how many Brits are working from home without taking precautions to protect themselves and their companies' data – and the industries and cities with the worst cybersecurity.
While most Brits believe that good internet speed is the biggest challenge when working from home, data breaches are also a major concern. Our survey reveals that two in five Brits are at risk of cyber-attacks while working from home due to a lack of education on cybersecurity, and a quarter of Brits have let people in their household see confidential data and documents.
Take a look at the full results, to find out which industries and areas in the UK have the worst risk of data insecurities when working from home.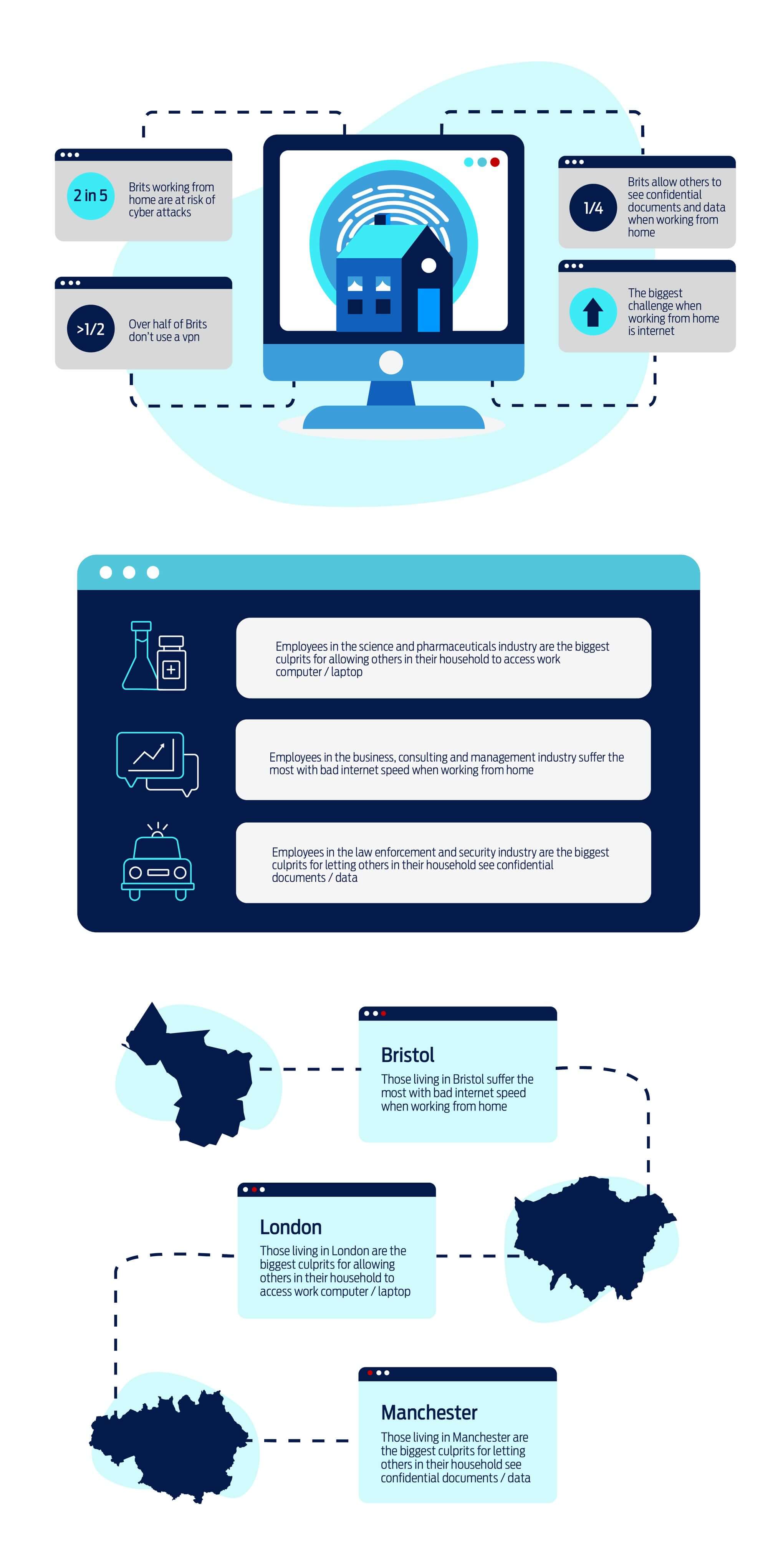 Tips for improving cyber security when working from home
1.  Step up awareness to phishing scams linked to COVID-19
Attackers are exploiting anxiety around the pandemic, especially with phishing scams claiming to be related to COVID-19. You should be suspicious of emails asking you to renew any personal details, claiming to contain unexpected test results, or to open any files.
2.  Use a VPN
Our study has shown that over half of Brits do not use a VPN, virtual private network, when working from home. A VPN is very important for improving online privacy and keeps sensitive data hidden from any cybercriminals
3.  Backup your data
Data can be lost in numerous ways. To prevent data loss, be sure to back-up your device routinely – usually during out of office hours. You should also have a backup power system in case of a local power cut and avoid, where possible, using small items such as USB sticks to store data which can be easily misplaced.
4. Update Virus Protection Software
Company smart devices will usually have up-to-date virus protection software, but these need to be updated every so often, especially if you're out of the office. Having out-of-date virus protection can pose a risk to data security and computer health.
5. Lock your device when you are not using it
If you work in spaces which are shared with people that you don't work with – whether that is public transport, a café, a shared home, or a library – you should be careful with your device and data. When in a situation like this, be sure to lock your device any time you're not using it.
---