A speedy website is a vital part of providing a positive user experience online. As technology progresses, user expectations grow, and their tolerance for slow or sloppy websites diminishes. In fact, it has been shown that slow-loading websites set retailers back an astounding £59.6bn each year in lost sales.
This comes as damning new survey data reveals that over half of Brits (54%) claim slow loading speed is their primary reason when abandoning an online purchase. Similarly, just under half of us (45%) refuse to revisit a website following a bad experience. Fortunately for online retailers, just over a third of Brits (37%) are willing to give websites a second chance, particularly on mobile.
However, there's never been a more crucial time to focus on your website. The pandemic accelerated the rise of online shopping, causing a rapid digitisation amongst businesses that weren't previously online. Therefore, it's absolutely vital that your website is fast, user-friendly, and filled with quality content.
Want the most bang for your buck? Check out our Cheap Web Hosting packages.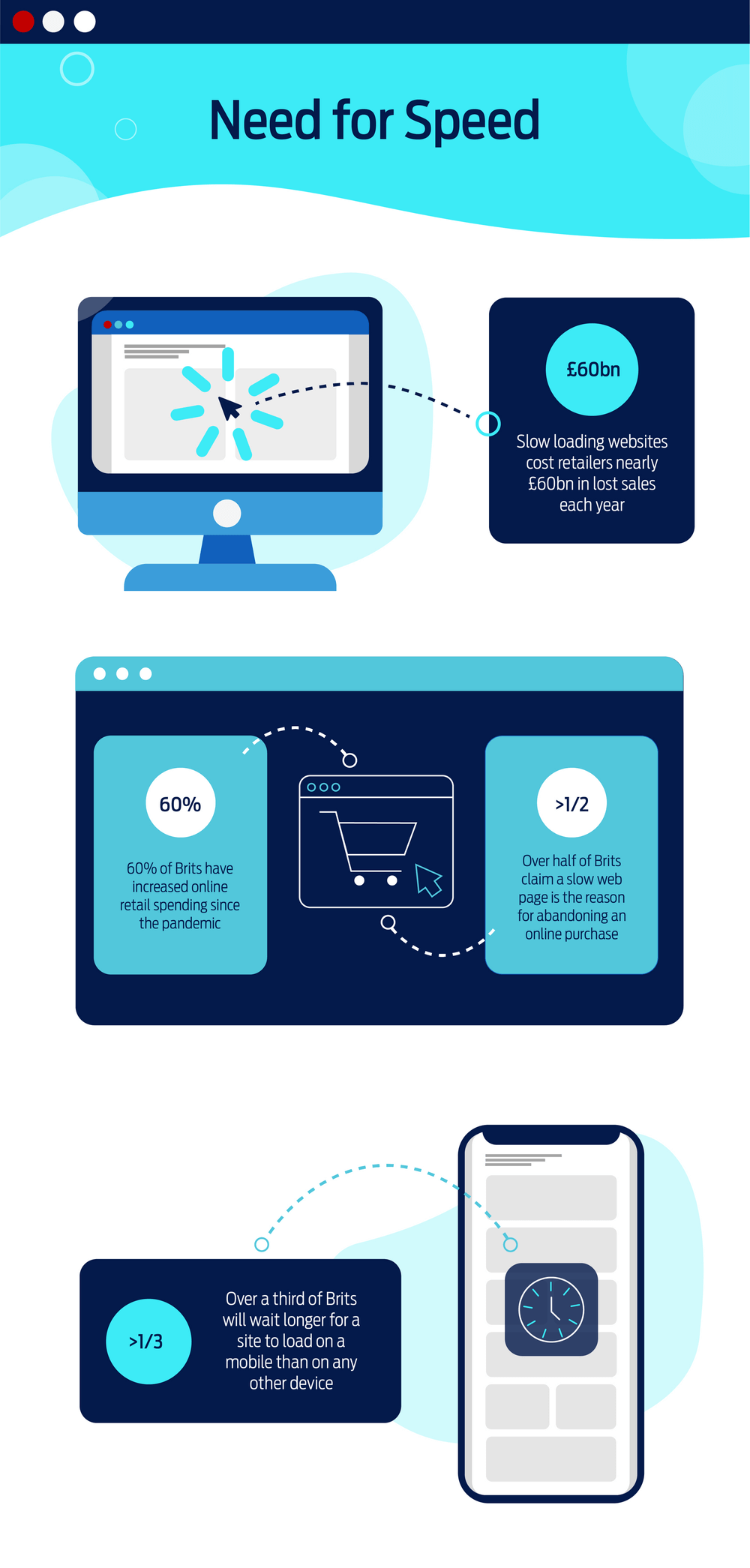 Tips for improving website speed
1. Scale and optimise your site imagery
They say a picture is worth a thousand words, but yours may be costing you thousands of pounds. Oversized imagery is one of the most common causes of slow loading speed. To make your site more efficient, it's crucial to optimise your imagery and choose appropriate file formats. We'd recommend moving to next-gen image formats such as WEBP or SVG.
2. Compress pages
Proper compression is vital if your website is brimming with high-quality images and videos. Whilst these are great visual additions to a webpage, they may be slowing down loading time and pushing away potential customers. A simple solution is to add gzip compression to your pages, which will turn imagery into smaller files without compromising on quality.
3. Make sure you've enabled browser caching
Enabling browser caching is a simple way to improve user experience for repeat visitors. Essentially, this will allow the user's device to "remember" your site by downloading and storing content locally, so next time they visit, the website will load even faster than the first time.
4. Tighten up code
When building your website, take the time to review your codebase and ensure that you're developing it in an efficient way. Stripping back unnecessary code is one of the most effective ways to make a website more lightweight, and offer a more seamless experience to visitors.
5. Upgrade your web hosting platform
Picking the right web hosting provider can really give your website a speed boost. If you want to offer customers a silky smooth experience, be sure to use a hosting platform designed to handle all the traffic you can throw at it. Plus, now that page speed is a ranking factor on Google, having a faster website is an easy way to attract more traffic to your site.