Developer products
with major perks
Looking to build a powerful platform? Want to get a website online? Well you've come to the right place. Get the toolkit you need with top-notch performance from flexible solutions plus 24/7 pro support to boot.
FIND YOUR SOLUTION
Making tech less complex
Getting the best out of your infrastructure shouldn't be difficult. We'll have you set up in no time, complete with mind-blowing performance and transparent pricing.
Supported migrations
Already have other products but not happy with your current host? Transfer to us and get all the benefits we have to offer. Our pros will help you find the easiest way to migrate to us, making moving your projects as stress-free as possible.
Clear-cut pricing
No one likes huge price hikes catching them off guard. That's why we have some of the most stable prices out there. And if there are any changes, we'll be transparent and keep you in the loop so you'll know what you're paying each time
Expert support, 24/7
Don't let anything stop you in your tracks. If you get stuck or have a quick question, our support team is always here to speak your language. Get the pro support you need from real people whenever you need it – we're only ever a phone call away.
The full toolkit
We build our products for people who value the same things we do – maximum performance and minimal limitations backed up by dedicated support. So, whatever your gig is, we have the solution for your projects.
Servers
Our servers are the solution your project has been craving. Powered by cutting-edge hardware, you get built-in security that keeps your data safe and full root access for complete control over your configuration.
AMD Dedicated Servers
AMD Ryzen PRO and EPYC Dedicated Servers, packed full of performance. Get up to 128GB RAM, 4TB storage and 16 core processors, with full root access and support for virtualisation.
Find your dedi
Intel Dedicated Servers
Dedicated Servers powered by Intel Xeon processors. Built with impressive hardware and top-of-the-line security, get up to 192GB RAM, 20 core processors and 4TB storage.
Find your dedi
Virtual Private Servers
Fast, affordable VPS that give your project room to grow with upgradable resources. Get speedy SSD storage and install apps that make it even easier to access your favourite tools.
Take it virtual
Cloud
Scale as you build with flexible resources, ideal for loads of project sizes. Get high end technology, predictable pay-as-you-use billing and customisable server configurations.
Cloud-servers
Revel in the power of servers that grow with your business. Scale on-demand with fully flexible resources. Get down-to-the-minute billing and the ability to pause your server.
Explore Cloud Servers
Bare Metal Servers
Powerful servers with dedicated resources and the flexibility of pay-as-you-use billing. Start and stop your server when you need to and get your choice of AMD or Intel tech under the hood.
Take it virtual
Storage
Store more files and handle bigger data on dedicated servers with huge storage. Or backup your projects securely and access your data easily with cloud backups that keep everything safe.
Storage Servers
Dedicated servers with even bigger storage capacity, powered by AMD Ryzen and Intel Xeon Gold tech. Get up to 64TB to manage more files, handle larger data and store bigger backups.
Find your dedi
Cyber Protect
Forget manual backups. Automatically safeguard servers and recover entire VMs, single files, folders and even databases in minutes. Always be prepared with Cyber Protect.
Take it virtual
Pro Hosting
From simple websites to full-blown business sites, get everything your projects need. Whether you're building for yourself or creating sites for clients, our hosting is simple to set up and a breeze to manage.
Web Hosting
Optimised for performance and built for easy management, our Web Hosting comes with all the free essentials. And with advanced support for PHP, you're free to be the codemaster.
Find your dedi
WordPress Hosting
Enjoy lightning-fast, optimised hosting for the world's most popular content management platform. Setup is easy, performance is superfast and the possibilities are endless.
Find your dedi
Fasthosts remove all the worry of physical infrastructure. We're software specialists and can't spend our time dealing with hard drives and discs. Fasthosts does it for us so we can focus on our clients. They give us a personal service so we can do the same for our customers.
Real tech support from
real techies, 24/7
When you need help with something technical, a person with the right knowledge and skills is worth their weight in gold. Our experienced support specialists are available 24/7, by phone, email and live chat. They're friendly, understanding and they certainly know their stuff.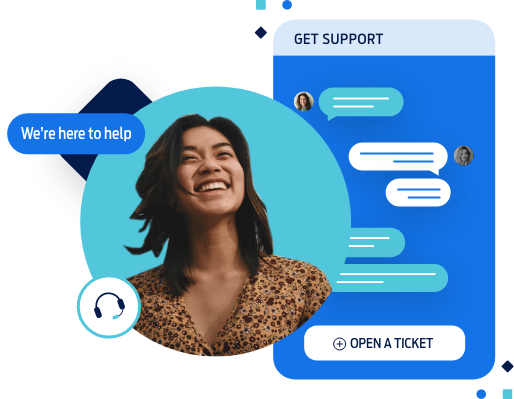 Rock-solid protection
for your data
From one business to another, we know that looking after your data is a serious thing. That's why we do absolutely everything to keep it secure – just as it should be. Our ISO 27001-certified data centres are monitored 24/7 and feature the latest in hardware and software security.