Domain Release
Regain access to your domain
Do you have a domain name that is registered with Fasthosts through a reseller? Having trouble contacting them? Don't worry, we may be able to help you with our domain release process.
complete the form
What is domain release?
We allow resellers to register domain names with us on behalf of domain registrants (that's you). When they register a domain name on your behalf, they must make sure that your details are used as the domain registrant unless otherwise agreed in writing or by contract.
If you're the domain registrant and need to manage your domain name but you can't get hold of the reseller, we might be able to help through the domain release process.
Note: A non-refundable administrative cost of £20 + VAT is charged upon successful completion of the domain's release into your account.
Is Fasthosts the provider?
Checking who your domain name is registered with is simple. Using a WHOIS lookup, you can check your domains. If your domain is registered with Fasthosts it will be shown in either of the following formats:
gTLD such as .com, .net, .online
Source: Tucows Domains
All .uk domains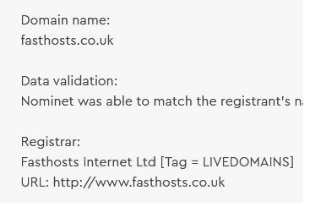 Source: Nominet
Domain release request online form
Please note: If your request is unsuccessful, we won't charge you anything. This process normally takes around six working days but can take longer depending on the circumstances of your request.
Hi there!
Have a question about our products? Talk to a sales expert.
Chat with us