Whatever dev life throws at
you, be virtually unstoppable
We know you have a lot on your plate. Be confident that you've got the tools and support you need to make it as hassle-free as possible, whatever is thrown your way.
discover fasthosts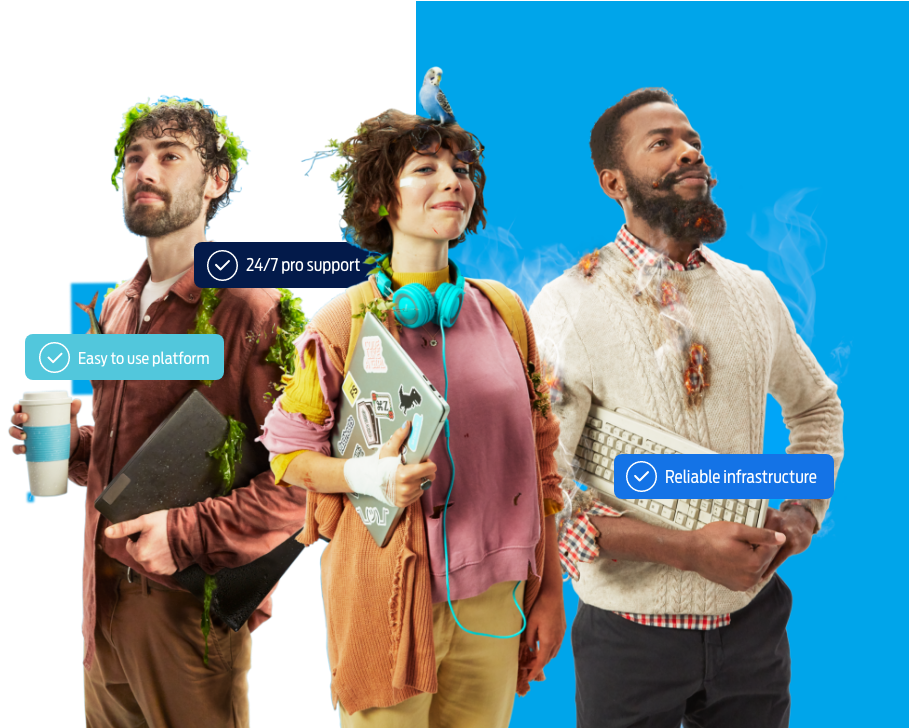 Developer products with major perks
With 20+ years helping developers manage and scale their businesses, we know what's really important.
If you're up, we're up
Running your business can have you up at all hours. That's why we make sure you get the technical help you need, whenever you need it. Our tech geniuses are only a phone call away, 24/7.
Performance you can rely on
We get it, you need uptime and security you can rely on, nothing less. With UK data centres, on-site engineers and advanced security, we've built a platform that you can be confident in.
You're in control
Whatever you're managing, our Control Panel makes it easy. Find all of your settings in one place for your websites, servers, emails and more without missing a beat. Yup, it's that simple.
Built by pros,
for pros
When it comes to our products, the focus is always on you. Whatever your speciality is, whoever your customers are, we are committed to making sure you have the tools to take your business full throttle.
We've been offering the latest internet technology for over 20 years, so it's safe to say we've been around the block a few times. In this industry, you never stop learning and we have a lot of experience to share. Our products have been built for people who value the same things we do – maximum performance and minimal limitations backed up by dedicated support.
Everything you need to get down to business
Whatever your gig is, we have loads of products that can help take your projects even further.

"We carefully select partners. It's important they have proven success, experienced staff, and a work ethic that mirrors our own. Fasthosts ticks all those boxes"
———
Adam Friday, Managing Director,
"We need to be assured the applications will work without a hitch and the data stored securely. Fasthosts provide that peace of mind."
———
Jack Byrne, Software Developer,
"We've invested in Fasthosts because of the support...sometimes you just need to speak to someone – and quickly. We can do that with Fasthosts."
———
Rick Marengo, Founder and Owner,
"It's all about time and cost for us. It's as simple as that. The Fasthosts team is agile, responsive, and fast"
———
Callum Green, Business Insights and Solutions Architect,
"With Fasthosts, we get immediate help. If we can see an issue developing – even at 3 am – we know someone will be there to sort it out"
———
Graham Miles, Director & Co-founder,

"Integrity of the platform, flexibility, cost and customer service. It's a list of boxes that any customer would want ticked."
———
Marcelle von Wendland, CEO Developer,