What an adventure it's been! In 2018 Fasthosts announced the sponsorship of long-term customer Alex Alley, supporting him in his Solo Non-Stop Around the World sailing challenge on his 40ft yacht, Pixel Boat.
Alex set sail at the end of 2018 – Pixel Boat's official world record attempt began on New Year's Eve at 14:31:09 – and we've been 'dot watching' and keeping in contact with Alex and his wife Paula ever since. To beat the current time set by Guo Chuan, Alex needed to cross the line by 18th May 2019 at 10:32:06. Three months into his challenge and alone at sea, Alex has navigated the Atlantic, circumvented North Africa and headed towards Brazil, avoiding 'the doldrums' before heading East towards Australia. It's not been plain sailing and, although Alex has managed to cope with different conditions and a vast range of repairs en route, final damage has prevented him from completing the challenge.
The Fasthosts team remains extremely proud of all that Alex has achieved, an ambition ten years in the making and undertaken by only a handful of people out of the 7.5 billion global population. This puts it into perspective - most of us wouldn't even contemplate doing this, let alone attempt a challenge of this nature, in our lifetime.
Here is his update:
Most of you will have noticed that a few days ago I took a more northerly course than may be expected and I have been going a bit slower ever since. We have been trying to deal with an issue on board - where the mainsail attaches to the mast. There is a track that runs up the length of the mast, and 'cars' run up the track which attach to 'batten boxes' on the mainsail.... a few days ago it was almost impossible to get the main down to reef it - I had to winch it down with such force that I was expecting either the sail to rip in half or the track to pull off the mast or the line to break! Eventually, inch by inch the sail came down. I since noticed damage to several cars and some of the track. I have tried swapping things around but still get the same jamming issue. This means that I can no longer hoist the mainsail all the way up without it jamming - the bigger issue with this is getting it back down again, which is very important when the wind increases (especially for the expanse of Southern Ocean between New Zealand and Cape Horn) and I need to reduce sail by reefing and lowering the sail again. I am currently in 3rd reef, which means that in light winds I am very slow (like now in 7kts wind!).

I have been trying various solutions but with no success as the track itself is damaged with a nick out of it, and possibly more further up, and three cars are also damaged with bent pins. I have come to the very disheartening conclusion that the only option is to head for a port and try and sort it out - but this means giving up on the Record. I simply can't carry on with 3 reefs all the way and still be viable against the Record.I have been running everything around and around in my head and trying various solutions.
I have already dealt with a lot of inevitable wear and tear challenges:
windex failure before the start

autopilot failure - rebuilt it

watermaker - rebuild filter

hydrophone broke - made a new one

patched up two spinnakers

replaced spinnaker tack line

repaired reef lines and code tack line replaced tack shackle

spinnaker jury rigged tack for mainsail hole in solent - still need to fix it!

rewired the radar

rewired hydrogenerator

rebuilt broken valve for ballast tanks stopped leaks from both aft

ballast tanks repaired mainsail outhaul

had a knockdown
...and that's just what I can think of writing this email!
I have done just over 250 sail changes and sailed 13,910 miles so far, but will be over 14,500 by the time I reach land.
So it is with great regret, and a deep feeling that I am letting you all down, that I am going to have to retire from the record and head to port in Australia. I still have a long way to go to reach a port (maybe Adelaide) so I will leave the tracker running so you can follow me if you still want to.
Sorry and thank you for your support.
Alex.
I'm sure you will join us in congratulating Alex for navigating three months at sea alone, and we all look forward to hearing about his adventures once he has recovered. You can find out more about Alex and Pixel Boat here. In the meantime, here are some of the photographs Alex has shared with us while at sea, sent via satelite hence the lower resolution.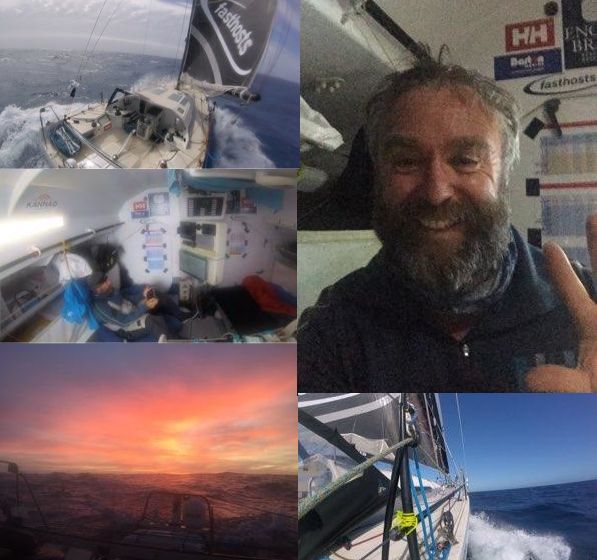 ---