Excitement is running high for WordPress devs and users throughout the community with the release of WordPress 6.1, a.k.a "Misha" on November 1st. Marking the third major release of the year, following WordPress 6.0, it's jam-packed with improvements many have been waiting for.
As always, hundreds of contributions have made their way into the latest release, including new features and performance enhancements as well as the usual bug fixes from the latest versions of the Gutenberg plugin into the core. Ready to take a look under the hood of the latest WordPress update?
Some of my favourite enhancements are the refined ability to select partial paragraphs in a block; settings to keep list view open by default; and the keyboard shortcut to add internal links expanded to all blocks.
– Josepha Haden Chomphosy, Executive Director
What's new in the WordPress 6.1 update?
WordPress 6.1 is designed to build upon the range of features and enhancements we've seen in previous updates, largely focused on improving the site-building experience. A lot of the major changes revolve around creators and writers including improved layouts, patterns and design tools. Blocks have also been improved, now giving a richer experience. And for developers, the style system has been updated, giving better consistency.
So what exactly is new in WordPress 6.1?
A new default WordPress theme – Twenty Twenty-Three
In WordPress 5.9 we saw the Twenty Twenty-Two default theme. This year, WordPress 6.1 brings us Twenty Twenty-Three, a shiny brand-new default theme that uses block theme features and style variations introduced in 5.9 and 6.0. Including 10 different styles and marked as "accessibility-ready", users can change how their site looks within a single theme, with a single click.
Better creator experience with templates
WordPress 6.1 really does make using templates easier and better, from new templates to template parts…
New templates
Expanded template options give you more flexibility when it comes to customising your page layout in a few clicks, including the option to create custom templates for posts and pages in the Site Editor. And now when you select a template, you can choose if you want to apply it to a specific item or all items.
Quickly build with template parts
Classic themes can now make use of block-based template parts to make it even quicker to build your page. You can add and edit template parts like headers, footers, comments sections in a snap and even mini carts if you use WooCommerce.
Consistent controls across design tools
The block library is regularly expanding to include more block types and because of that, a huge effort has gone into making the controls across design tools and blocks more consistent. This makes the layout and site-building experience far better and more intuitive – now you can edit and customise your site with more control and less CSS!
And WordPress has even put together a full roster of design tools for each block.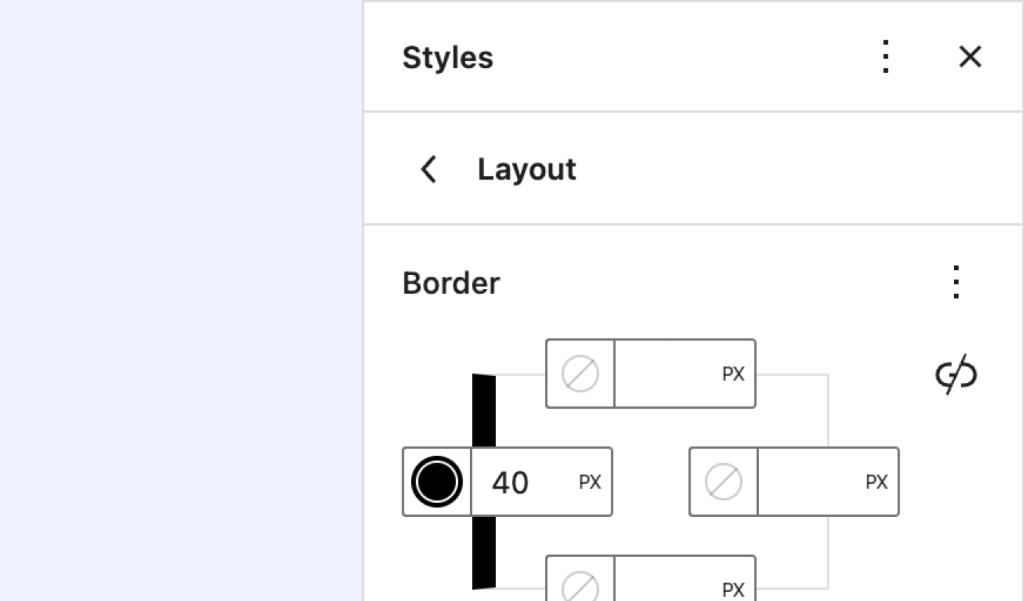 Menus just got easier to manage
WordPress 6.1 brings with it new ways to make editing your menus easier. The navigation block has been improved, including new fall-back options so you can edit the menu that's open. Plus the mobile menu system also gets an update with more features and better icons to make your menus truly yours – happy days!
Support for responsive typography
Build a site that has more responsive text with support for fluid typography and spacing presets through the theme.json file. Now you can define font sizes that adapt to any viewport size for easy reading no matter what device your visitors are using, all without having to manually code media queries yourself!
Create posts quicker with starter patterns
You're probably familiar with seeing suggested patterns when creating a page in WordPress 6.0. Well now in WordPress 6.1 you can use a new modal and a little bit of code to create starter patterns for new posts too. You can also set default headings and lock areas within the pattern, so if you have multiple writers or just want to make it easier to create consistent posts yourself, you can.
More flexibility for quotes and lists
Get even more flexibility for your site with List and Quote blocks that support inner blocks. Now you can create richer compositions like adding headings and even images inside your Quote block. Or you can select multiple blocks and combine them to create one List or Quote block in a click.
Site Editor settings saved for later
Have you ever cleared your browser data and found that your user preferences were lost? Well the latest release introduces a new system for managing preferences so this doesn't happen! WordPress 6.1 stores this data server side on top of browser local storage so you keep them even if you clear local storage. Plus this means preferences can be accessed across multiple browsers and computers.
Lock inner blocks with one click
Gone are the days of having to lock each inner block individually. A new pop up lets you apply lock settings to all blocks within a containing block like a group, cover or column block, making it much easier and less time consuming to lock content, images and more.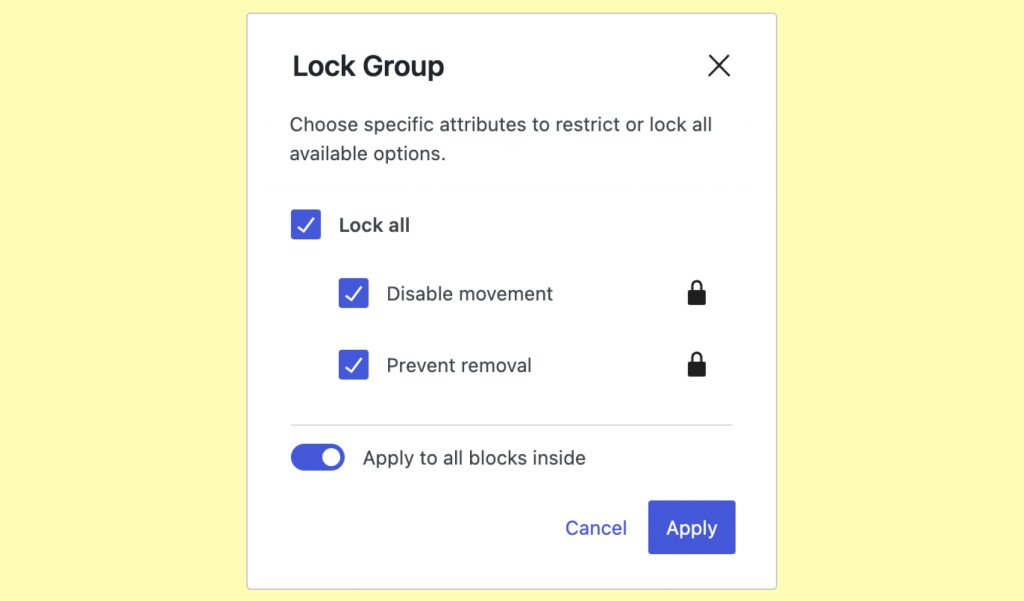 New content-only editing for container blocks
Control your site's layout while leaving your writers to focus on the content with new content-only editing settings. Lock layouts within containing blocks, making child blocks invisible to the List View and completely uneditable. Plus, combine this with the new block-locking options for even more advanced control over your blocks.
Improved admin and editor accessibility
More than 40 accessibility improvements include resolving focus loss problems in the editor and improving form labels and audible messages making alternative text easier to edit. And the sub-menu overlap in the expanded admin side navigation at smaller screen sizes and higher zoom levels has been fixed.
And that's not all…
The new WordPress 6.1 update also includes features and enhancements like:
Improved visualisation for layouts and settings – View and manage post and page settings with a cleaner display, improving the use of features like template picker and scheduler.
Better block placeholders – Many blocks now have improved placeholders to better reflect customisation options available, like the Image block placeholder, now with custom borders and duotone filters.
Easier block theme search – With a 'block themes' filter you can search for and find block themes quicker. Plus, while you explore different themes and patterns, a pattern preview gives you a better idea of how the theme could look.
Streamlined CSS – Reduce the time you spend on layout-specific tasks with CSS rules for padding, colours, typography, margins and more all in one place.
Updated element styling – Get more control over elements like buttons, citations and links globally, including controlling hover, active and focus states for links using the theme.json (not controllable in the interface yet).
Query Loop block support – Query Block variations now support custom queries with new filters for more advanced hierarchical post type and variation filtering options.
Save time with spacing presets – Design quicker and more consistently with preset margin and padding values for multiple blocks. Now you can avoid hard-coding values into your theme.
How to update to WordPress 6.1
Like the look of the new WordPress 6.1 update? We don't blame you! Updating to the latest version should only take a few minutes and you'll be enjoying all these awesome new features in no time. Before you update, you should always back up your website. It's also a good idea to test the new version in a staging environment so you can be sure the update works with your site content, theme and plugins.
So how do you update to WordPress 6.1? You can simply head to your WordPress control panel and navigate to Dashboard > Updates (or the 'Please update now button in the top banner). Once you're on the update page all you need to do is click 'Update to version 6.1'.
You can also update manually – take a look at WordPress' guide on updating WordPress for a detailed step by step.
---
As always, each WordPress release packs a punch, and what we've covered barely scratches the surface! Fancy a closer look at everything the WordPress 6.1 update has to offer? WordPress has their own release notes or you can see the full list of tickets on Trac.
If you're as excited about WordPress 6.1 as we are and are eager to check it out, the good news is that if you're a Fasthosts customer, automatic updates mean it'll be ready for you to use. If you don't have automatic updates enabled, you can install it with one click – simply log into your Control Panel to get started.
Need help with your WordPress Hosting? Our support team is here to help 24/7 – they're only ever a phone call away!