In late September, the server management tool Plesk released its newest version to early adopters. Following the naming convention set by the previous release, Plesk Onyx, the new version is named after the volcanic glass, obsidian.
When comparing the onyx crystal with obsidian, the former is significantly denser and heavier. This may be the reason for Plesk's new name, as the newest version has strongly focused on making Plesk more lightweight and faster out of the box.
Updated look and feel
Plesk Obsidian has put an emphasis on updating the overall appearance of the platform. To improve the user experience, the colours and font sizes have been streamlined to bring it up to date with modern design trends.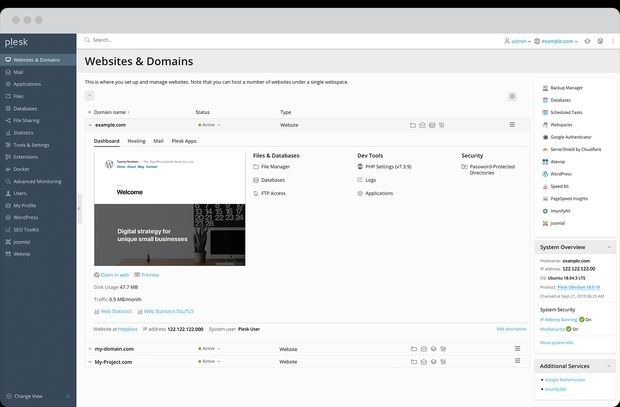 There have also been some quality-of-life improvements: the menu on the left of the screen is now collapsible to show more screen space, and a global search has been introduced to make it easier to find specific functions.
The File Manager interface has been updated to include new tools such as the ability to mass-upload files using RAR archives, and search for a file by name. These changes aim to make the control panel simpler and more efficient to use.
Security improvements
Another focus of Plesk Obsidian is to improve and add to its security features. As the control panel could be responsible for managing hundreds of servers, it's imperative that its security is well-maintained. One of the most notable additions in this area is the extension 'SSL It!' which helps you manage your websites' SSL certificates, and ensures that all of your websites are secured.
Other new features aim to improve control. Restricted Access mode allows you to grant additional users administrative control while preventing the use of potentially risky operations such as the shutting down of servers.
Email notifications issued by Plesk are now HTML-formatted rather than plain text, which makes them easier to digest, and the look of these notifications is also fully customisable, making it easier for users to see important security updates regarding their server.
Worth the upgrade
In comparison to Onyx, Plesk Obsidian boasts a good number of updates and quality-of-life improvements which make it worth upgrading to. It's a free update if you already have Plesk Onyx, making it a no-brainer. Obsidian is out now if you're on the early adopter release tier, which can be enabled easily through the Plesk interface. Alternatively, it will eventually be released for all users.
With the release of Obsidian, Plesk is switching to a new update system – rather than releasing new separate versions every 12–18 months, Obsidian users will receive monthly incremental updates which are applied automatically. This follows the growing trend of 'as-a-service' update models, and should reduce large updates and migrations in the future. Check out Plesk's blog to see all the new Plesk Obsidian features.
If you like the look of Plesk, it can be purchased as an add-on for £9.99 a month on all Fasthosts Dedicated Servers and Virtual Private Servers.
---